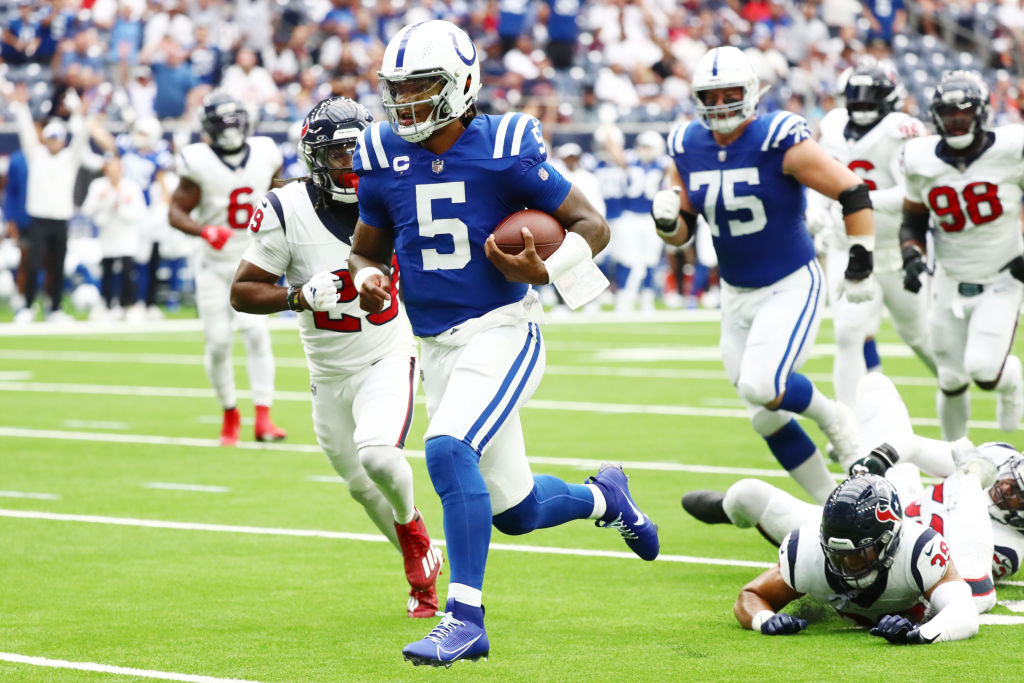 For the first time since 2020, the Colts begin its season 1-1 through Week 2.
As Indianapolis came away with a win in Houston, 31-20, the biggest storyline of the day came a minute and a half into the second quarter; rookie quarterback Anthony Richardson exited the game under concussion protocol.
Just before halftime, Richardson was officially ruled out for the rest of the game. Following Sunday's victory, head coach Shane Steichen confirmed Richardson was experiencing symptoms, leading to his exit.
Richardson began the day dominating play with two rushing touchdowns. His first came on an 18-yard run after passing for 50 yards on the drive. On his second score, 15 yards from scrimmage, it appeared Richardson may have hit his head as he ran into the endzone.
For the second straight game, backup quarterback Gardner Minshew came in relief. Keeping the Colts' electric momentum alive, he marched Indianapolis down the field for two straight touchdown drives.
Zack Moss ran for 11 yards to give the Colts a 21-7 lead ahead of Kylen Granson scoring his first career touchdown to give Indy a 28-10 lead into halftime. Moss had an optimistic day for a Colts team currently with minimal running back options, rushing for 88 yards on 18 carries.
The Colts defense had another decent outing on Sunday afternoon, including a strip sack on fellow rookie quarterback C.J. Stroud early in the game.
Meet at the QB.

📺 FOX pic.twitter.com/0PDRhilZHH

— Indianapolis Colts (@Colts) September 17, 2023
Yet, as undefined as the Texas' wide receiver room currently is, you have to be mildly concerned about future matchups for this Colts team still trying to restructure its defensive backfield.
During the second half, the injury bug also bit Colts veteran center Ryan Kelly, who exited the game as well under concussion protocol. Second year offensive lineman Wesley French slid in Kelly's place for the remainder of Sunday's game.
Compared to last season's second game (a 24-0 shutout in Jacksonville), this Colts team has much more definition to it through only two weeks.
Whether it's Richardson or Minshew on the field, it doesn't seem to make a difference for Shane Steichen solidifying himself as a QB whisperer, dating back to his time with Jalen Hurts in Philadelphia. His clock management was also sound, tricking the Texans into burning a timeout on a 4th down attempt.
Up next, a trip to Charm City where the Colts will look for redemption against the Baltimore Ravens after the Monday Night Meltdown from two years ago. All eyes will be on whether Richardson is able to return for what would be a thriller showdown versus Lamar Jackson.
Follows @bretttalksfast on X