WEEKDAYS 6PM-9PM
Listen to The Rich Eisen Show on Indy's Sports Ticket 1430 AM – WXNT, 99.5 HD2 FM, and stream on our mobile app.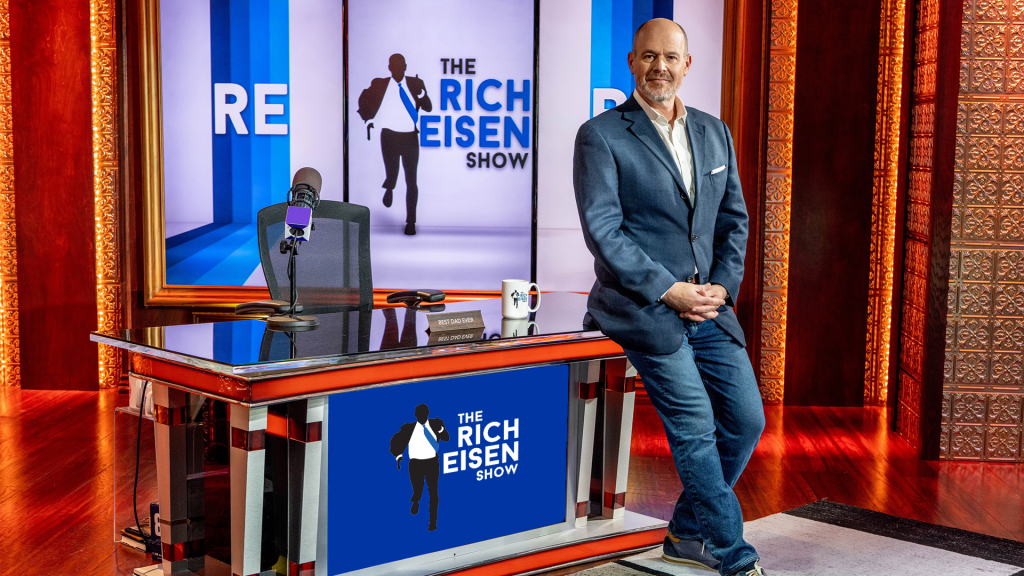 One of television's most visible anchors and personalities, Rich Eisen was a mainstay on ESPN's SportsCenter from 1996-2003 before becoming the first on-air talent added at the NFL Network in June 2003, five months before the network's launch that November.
In 2014, Eisen created The Rich Eisen Show. Now in its ninth year, both Eisen and the show have received multiple Emmy nominations for Outstanding Personality/Studio Host and Outstanding Studio Show-Daily. Airing from noon-3PM ET on Roku TV and simulcast on Westwood One, The Rich Eisen Show originates out of Los Angeles, CA and features an engaging mix of sports, humor, and pop culture, while attracting the most recognizable names in sports and entertainment including Tom Brady, Matt Damon, Jerry Seinfeld, Jodie Foster, Matthew McConaughey, Regina King, Aaron Rodgers, Larry David, Morgan Freeman and more.
He continues to be a centerpiece at the NFL Network, where he will celebrate his 20 year anniversary at the network this Fall. As with The Rich Eisen Show, his work at the NFL Network has garnered four Emmy nominations for Outstanding Studio Host and can be seen Sunday mornings throughout the NFL season hosting the network's Emmy-nominated NFL GameDay Morning. Eisen also serves as the emcee of the Pro Football Hall of Fame Induction Ceremony in Canton, Ohio, and anchors the network's special, on location coverage of the NFL Draft, NFL Scouting Combine and Super Bowl.
In 2017, Eisen was honored became the 12th Pat Summerall Award recipient at the St. Jude Legends of Charity Dinner. A tireless supporter of St. Jude, Eisen transitioned his annual Spring "Run Rich Run" event to become a fundraiser and has raised over $5M for the children's hospital.
A graduate of the University of Michigan, Eisen earned a Master of Science degree in Broadcast Journalism from Northwestern University's Medill School of Journalism in 1994.
He resides in Los Angeles with his wife, Suzy Shuster. Together they have three children and two rescue dogs.