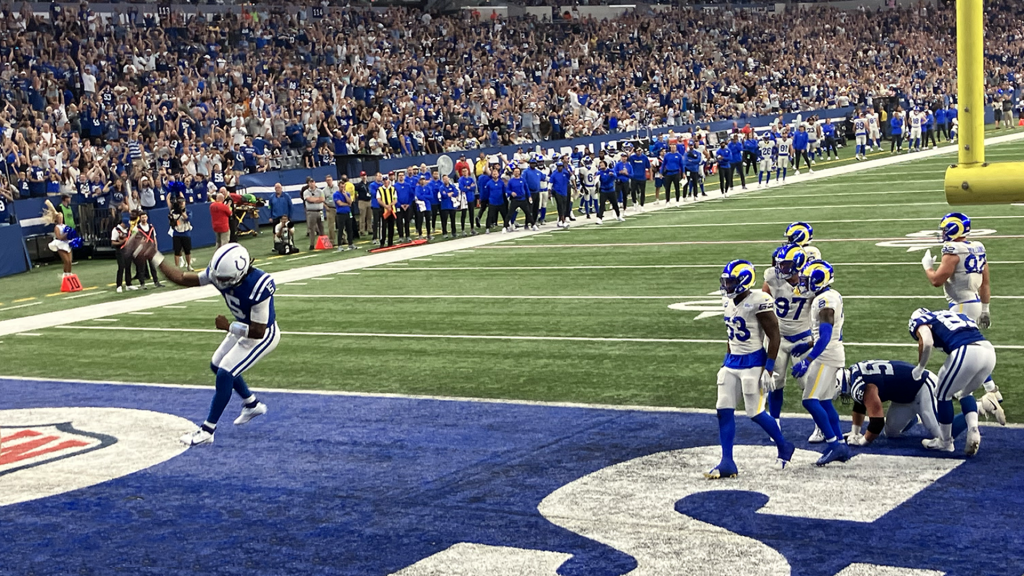 Rookie quarterback Anthony Richardson nearly pulled off an incredible comeback Sunday afternoon, but ultimately the Colts fell short to the Los Angeles Rams 29-23 in overtime.
Multiple first half mistakes, including two unnecessary roughness penalties and a fumble by Richardson, opened the floodgates for a 20-0 Los Angeles lead by halftime.
Even as Indianapolis clawed its way back in the second half, veteran quarterback Matthew Stafford proved to be a much tougher test for this younger and more inexperienced Colts defense compared to weeks 1-3.
As Richardson helped turn things around in the third and fourth quarters, Alec Pierce recorded his longest reception so far of the year (38 yards) and Mo Alie-Cox scored his first touchdown of the season.
Head coach Shane Steichen continually pressed his luck on fourth down attempts as the Colts played catch up all afternoon, including passing up the opportunity to put three points on the board before halftime. Despite being bailed out a couple of times on missed field goal attempts by Rams kicker Brett Maher, the Colts never managed to get ahead.
As running back Zack Moss had a quieter day compared to the past three weeks, the Colts will now revisit talks with Jonathan Taylor, who is eligible to practice again starting this week. The 24-year old running back could suit up as soon as next Sunday at home versus the Titans, but nothing has yet to be confirmed by his camp or the team.
In what would've been a comfortable division lead having not lost today's game, the Colts instead sit tied at 2-2, as Jacksonville, Houston, and Tennessee were all victorious today. All things considered, it's pretty optimistic given the initial unknowns coming into this season when it kicked off three weeks ago.
The AFC South is wide open, and with Richardson now having played in his first full complete NFL game, there's plenty of opportunities for the Colts to make up for today's blunder.
Follow @bretttalksfast on X